The best natural and dietary supplements get turned into drugs. This is what happened to vitamin A.
It turns out our skin loves vitamin A. Not only is it an antioxidant, but it also plays a role in collagen and new skin cell formation.1
The following table2 includes products both on and off a prescription that are associated with vitamin A. This includes the precursors to vitamin A, which are the beta-carotenes also known as the carotenoids.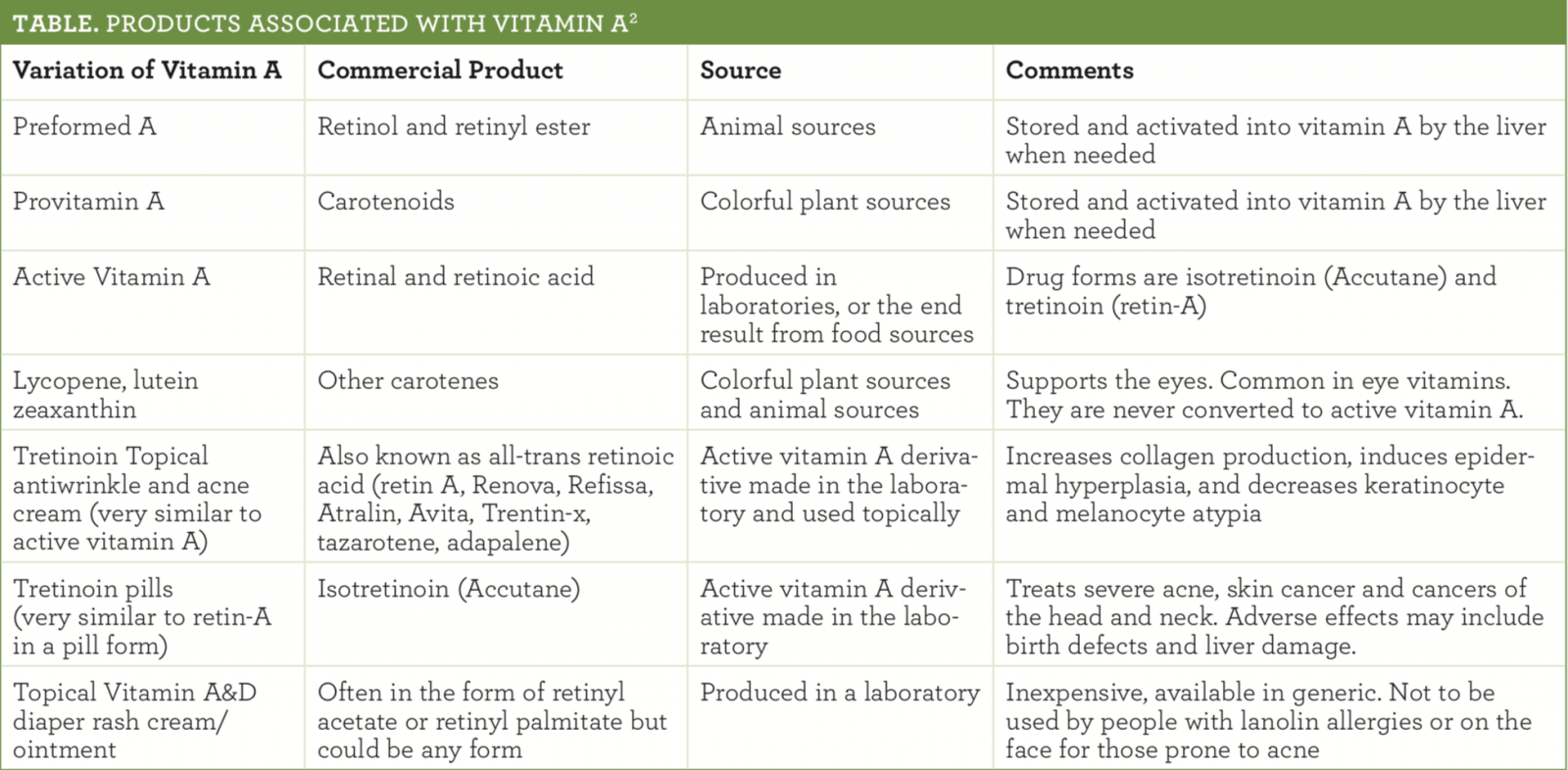 I would caution anyone against using oral vitamin A pills for skin, even though it is added to many beauty vitamins, because unnaturally high doses systemically have negative health consequences,1,2-5 causing birth defects and liver toxicities.
In addition, our bodies have an elaborate system to micromanage the amounts of active vitamin A in our bodies called beta-carotenes. These are stored in the liver, and when the body needs active vitamin A, it is produced at that time. This system attempts to control the amount of vitamin A circulating in the bloodstream.
There was a survival situation in the arctic area where the explorers were forced to eat polar bear and seal livers. Many got vitamin A toxicity and perished. Vitamin A is the only vitamin known of which people can get too much from food sources.6
Fortunately for modern technology and the advent of topical vitamin A (vitamin A and D diaper rash ointment included) we can deliver vitamin A in high doses to the site of action—our skin— without negative health consequents and therefore experience beautiful skin.
Seeing is believing, and topical vitamin A is a very affordable beauty secret. Pharmacists are in a prime position to inform patients.
---
Gunda Siska, PharmD, is a staff hospital pharmacist assisting doctors and nurses with drug prescribing, administration, and dispensing, as well as independent monitoring and dosing highly toxic and dangerous drugs.
---
References
Griffiths, CE. The role of retinoids in the prevention and repair of aged and photoaged skin. Clinical And Experimental Dermatology, [s. l.], v. 26, n. 7, p.613-618, 2001.
 National Institutes of Health. Fact Sheet for Health Professionals: Vitamin A. NIH Office of Dietary Supplements. https://ods.od.nih.gov/factsheets/VitaminA-HealthProfessional/. Updated October 5, 2018. Accessed April 16, 2019.
Ross CA. Vitamin A. In: Coates PM, Betz JM, Blackman MR, et al. Encyclopedia of Dietary Supplements. 2nd ed. London and New York: Informa Healthcare; 2010:778-91.
Solomons NW. Vitamin A. In: Bowman B, Russell R, eds. Present Knowledge in Nutrition. 9th ed. Washington, DC: International Life Sciences Institute; 2006:157-83.
Institute of Medicine. Food and Nutrition Board. Dietary Reference Intakes for Vitamin A, Vitamin K, Arsenic, Boron, Chromium, Copper, Iodine, Iron, Manganese, Molybdenum, Nickel, Silicon, Vanadium, and Zinc. Washington, DC: National Academy Press; 2001.
Rodahl K, Moore T. The vitamin A content and toxicity of bear and seal liver. Biochem J 1943;37:166-8.